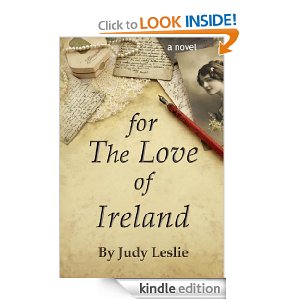 Today's FREE ebook is For the Love of Ireland
by Judy Leslie.
Margaret Sullivan dines with politicians, rebels, and spies. She is an admired journalist with the Chicago Tribune publishing under a male nom de plume.
Her unscrupulous husband is a prominent attorney and power broker with aspirations of his own. They are well-connected members of Chicago's 1880's Irish elite.

On her trip to Ireland to do research for a book she is writing, Margaret meets a charming one-armed Irish rebel named Michael and finds herself attracted to him and his ideas for liberating Ireland.
Don't have a Kindle?

This ebook is specifically for Kindles. However, you can download a free application which enables you to read Kindle ebooks on your computer, iphone, Android, Blackberry, iPad and more.
Need a Kindle?
Why pay for books when you can get them free? See more FREE ebook offers!
Product prices and availability are accurate as of the date/time indicated and are subject to change. Any price and availability information displayed on amazon.com at the time of purchase will apply to the purchase of this product.