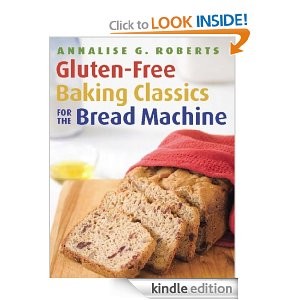 Wow! Today's FREE ebook is Gluten-Free Baking Classics for the Bread Machine
!!! The regular price is $14.95, so I doubt it will last long!  Many of you have expressed interested in Gluten free, so here is an awesome freebie.  I even downloaded this ebook and we're not Gluten Free!
Bread may be the staff of life, but if it contains gluten it can trigger an allergic reaction, and even provoke serious digestive disorders like celiac disease. Consumers who love bread but must avoid gluten have long been at the mercy of mediocre products and high prices. With this timely cookbook, they can have their bread and eat it, too. Acclaimed author Analise Roberts developed these simple, foolproof recipes for the Zojirushi bread machine. Roberts' outstanding recipes range from simple and satisfying Basic Sandwich Bread to complex and scrumptious Golden Italian Bread with Raisins and Fennel. She also offers ethnic breads like Challah and Babka and seasonal delights such as the irresistible Holiday Breakfast Bread. Included are loaves, like Sundried Tomato Roasted Garlic Bread, that contain no eggs or dairy products.
Don't have a Kindle?
This ebook is specifically for Kindles. However, you can download a free application which enables you to read Kindle ebooks on your computer, iphone, Android, Blackberry, iPad and more.
You can also download the same FREE ebooks for the Nook over at the Barnes & Nobles site!
Why pay for books when you can get them free? See more FREE offers!
Product prices and availability are accurate as of the date/time indicated and are subject to change. Any price and availability information displayed on amazon.com at the time of purchase will apply to the purchase of this product.