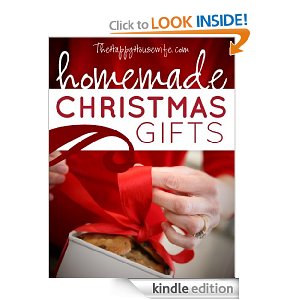 Today and tomorrow, you can download Homemade Christmas Gifts
by one of my favorite bloggers, Toni Anderson, for FREE.  The book will go back to the regular price of $2.99 on Wednesday.
Homemade Christmas gifts don't have to look like they came out of your 3 year-old's Sunday School class. There are some amazing homemade gift ideas that can be made by real-life moms on a real-life budget!

In this book you'll find step-by-step instructions for sixty gifts that you can make using easy to find items and you don't have to be an expert crafter to do it!
Don't have a Kindle?
This ebook is specifically for Kindles. However, you can download a free application which enables you to read Kindle ebooks on your computer, iphone, Android, Blackberry, iPad and more.
You can also download the same FREE ebooks for the Nook over at the Barnes & Nobles site!
Why pay for books when you can get them free? See more FREE offers!
Product prices and availability are accurate as of the date/time indicated and are subject to change. Any price and availability information displayed on amazon.com at the time of purchase will apply to the purchase of this product.