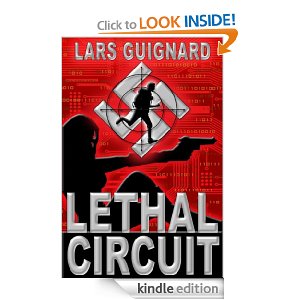 Keep your self busy during the storm today with Lethal Circuit: Explosive Spy Action for Mystery Thriller Fans (#1)
by Lars Guignard. The book is available as a FREE download for a limited time.
Michael Chase is on a hunt for his father. He was told his father had died about 6 months ago, but with no body and no evidence, it was pretty hard to believe. So when he's told that his father is still alive somewhere in China, he's determined to find him, whatever the cost. Upon his arrival in Asia, he learns his father worked for the CIA and was deeply involved in a case involving a Nazi-related aircraft.
Don't have a Kindle?
This ebook is specifically for Kindles. However, you can download a free application which enables you to read Kindle ebooks on your computer, iphone, Android, Blackberry, iPad and more.
You can also download the same FREE ebooks for the Nook over at the Barnes & Nobles site!
Why pay for books when you can get them free? See more FREE offers!
Product prices and availability are accurate as of the date/time indicated and are subject to change. Any price and availability information displayed on amazon.com at the time of purchase will apply to the purchase of this product.