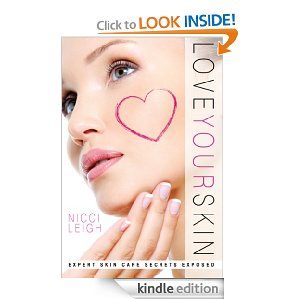 Today's FREE ebook is Love Your Skin: Expert Skin Care Secrets Exposed
by Nicci Leigh.
Do you love your skin? Do you have a healthy relationship with it, and know how to care for it like an expert? You deserve to. This in-depth skin care guide for all ages and skin types has everything you need to get the skin you love.
There isn't another skin care book like this on the market! It's delivered in best-selling author Nicci Leigh's signature fun and sassy style, which will keep you reading and remembering her "Love Lessons" and "Expert Secrets" long after you've finished them. She shares her professional knowledge based on a career as a licensed aesthetician and educator, college professor, legal skin care consultant, and spa owner, to give you an insider's perspective to your skin.
Don't have a Kindle?

This ebook is specifically for Kindles. However, you can download a free application which enables you to read Kindle ebooks on your computer, iphone, Android, Blackberry, iPad and more.
Need a Kindle?
Why pay for books when you can get them free? See more FREE ebook offers!
Product prices and availability are accurate as of the date/time indicated and are subject to change. Any price and availability information displayed on amazon.com at the time of purchase will apply to the purchase of this product.