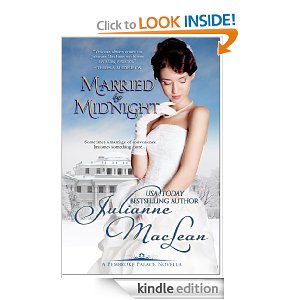 Today's FREE ebook is Married By Midnight (Pembroke Palace Series, Book Four)
by Julianne MacLean.
Lady Anne Douglas has been ruined by scandal and disowned by her father. Facing a life of poverty and spinsterhood, she leaps at the generous terms of the marriage contract to ensure her independence. But the charade of a two-week engagement proves more of a challenge than either anticipated when they cannot resist the intoxicating lure of the marriage bed. Anne knows they will part ways after the wedding. Will she dare risk her heart for two weeks of pleasure in the arms of an irresistible rogue? Or will her surrender become her undoing after a most unexpected turn of events mere hours before the wedding?
Don't have a Kindle?

This ebook is specifically for Kindles. However, you can download a free application which enables you to read Kindle ebooks on your computer, iphone, Android, Blackberry, iPad and more.
Need a Kindle?
Why pay for books when you can get them free? See more FREE ebook offers!
Product prices and availability are accurate as of the date/time indicated and are subject to change. Any price and availability information displayed on amazon.com at the time of purchase will apply to the purchase of this product.