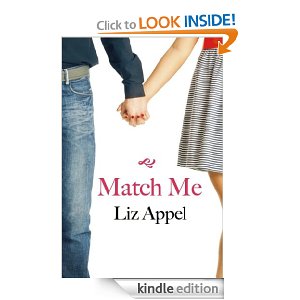 It looks like this book was just released less than a month ago. Download Match Me
by Liz Appel for FREE on Amazon right now.
Bonnie Nichols wasn't the kind of girl to crash a wedding. Or throw things. But somehow, she ends up doing both…at her ex-boyfriend's wedding.

Bonnie has been in love with Chase Somers since elementary school and seeing him at the altar with the absolute wrong girl causes her to do the unthinkable—toss a shoe in his direction in order to try and stop it.  But she doesn't count on the shoe knocking him out. Nor does she count on the entire church knowing it was her who did the throwing.  The shoe doesn't stop the wedding, but it does make her the laughingstock of her town.
Don't have a Kindle?
This ebook is specifically for Kindles. However, you can download a free application which enables you to read Kindle ebooks on your computer, iphone, Android, Blackberry, iPad and more.
You can also download the same FREE ebooks for the Nook over at the Barnes & Nobles site!
Why pay for books when you can get them free? See more FREE offers!
Product prices and availability are accurate as of the date/time indicated and are subject to change. Any price and availability information displayed on amazon.com at the time of purchase will apply to the purchase of this product.