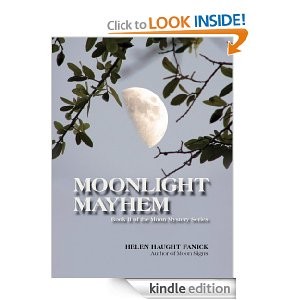 Download Moonlight Mayhem (Moon Mystery Series)
for FREE on Amazon today. The regular price is $4.99 and can change back at any time.
Maggie Flynn's simple country wedding in West Virginia's enchanting Canaan Valley is everything her aunts hoped for, and Andrea Flynn and Kathleen Williamson are looking forward to a joyful weekend celebration. Murder is the last thing on anyone's mind, but when one guest has multiple enemies present, it becomes a reality. Poison in a late-night cup of tea proves fatal, and it's obvious that plenty of family members and their friends have reason to want the victim dead.
Don't have a Kindle?
This ebook is specifically for Kindles. However, you can download a free application which enables you to read Kindle ebooks on your computer, iphone, Android, Blackberry, iPad and more.
You can also download the same FREE ebooks for the Nook over at the Barnes & Nobles site!
Why pay for books when you can get them free? See more FREE offers!
Product prices and availability are accurate as of the date/time indicated and are subject to change. Any price and availability information displayed on amazon.com at the time of purchase will apply to the purchase of this product.