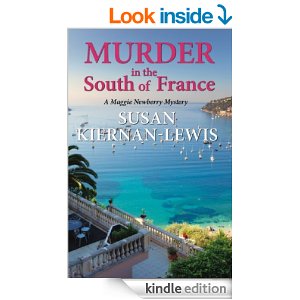 Right now you can download Murder in the South of France (The Maggie Newberry Mystery Series)
for FREE on Amazon!
TOTALLY REVISED, UPDATED EDITION! Maggie Newberry is sheltered, privileged but also a whip-smart advertising copywriter who's fast on her feet and a little stunned to realize that she's 32 years old and still hasn't found "the one." When her long-missing sister ends up dead, Maggie flies to the south of France to find the little niece that no one in the family even knew existed. Along the way, she finds handsome Laurent Dernier, a sexy if nefarious Frenchman who it's not clear is there to help or hinder Maggie's search for the girl. Meanwhile, her sister's murderer sets his sights on the little girl–and Maggie.
Don't have a Kindle?

This ebook is specifically for Kindles. However, you can download a free application which enables you to read Kindle ebooks on your computer, iphone, Android, Blackberry, iPad and more.
Need a Kindle?
Why pay for books when you can get them free? See more FREE ebook offers!
Product prices and availability are accurate as of the date/time indicated and are subject to change. Any price and availability information displayed on amazon.com at the time of purchase will apply to the purchase of this product.