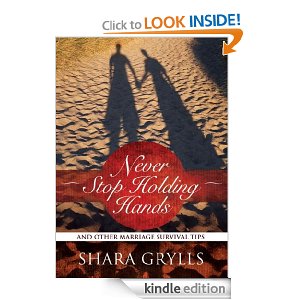 Here is a book for all the married couples – download Never Stop Holding Hands: And Other Marriage Survival Tips
by Shara Gryllis for FREE on Amazon.
hara Grylls is married to one of the world's best-known outdoor adventurers: Bear Grylls, the host of Man vs. Wild. Together, Shara and Bear have discovered that marriage is one of the greatest risks and deepest joys anyone can know.

Never Stop Holding Hands includes artist Charlie Mackesy's distinctive sketches alongside the advice that keeps the Grylls's marriage strong. Whether readers have been married fifty years or are just starting out, Never Stop Holding Hands will remind them that love will triumph in any adventure.
Don't have a Kindle?
This ebook is specifically for Kindles. However, you can download a free application which enables you to read Kindle ebooks on your computer, iphone, Android, Blackberry, iPad and more.
You can also download the same FREE ebooks for the Nook over at the Barnes & Nobles site!
Why pay for books when you can get them free? See more FREE offers!
Product prices and availability are accurate as of the date/time indicated and are subject to change. Any price and availability information displayed on amazon.com at the time of purchase will apply to the purchase of this product.