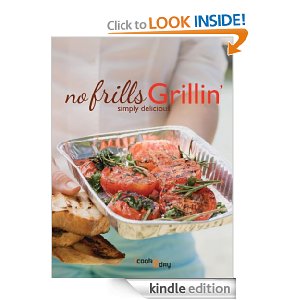 Today's FREE ebook is No Frills Grillin' (Simply Delicious)
.
No Frills Grillin' is a collection of recipes for preparing delicious grilled dishes from beef, lamb and pork, to tomatoes, pineapple and peaches – to mention just a few of the many featured ingredients. In addition, a choice of delicious sauces and great side dishes complements many recipes. With about 60 recipes, an equal number of mouth-watering photographs and access on most mobile devices, No Frills Grillin' allows America's favorite food preparation to be enjoyed in the house, from the backyard or out in the countryside.
Don't have a Kindle?

This ebook is specifically for Kindles. However, you can download a free application which enables you to read Kindle ebooks on your computer, iphone, Android, Blackberry, iPad and more.
Need a Kindle?
Why pay for books when you can get them free? See more FREE ebook offers!
Product prices and availability are accurate as of the date/time indicated and are subject to change. Any price and availability information displayed on amazon.com at the time of purchase will apply to the purchase of this product.