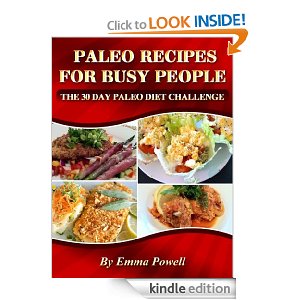 Today's FREE ebook is Paleo Recipes For Busy People – The 30 Day Paleo Diet Challenge
by Emmma Powell.
* 30 Days of yummy recipes
* Never eat the same meal twice in the 30 day challenge
* Easy to follow along recipes
You can still score 1,001 Best Grilling Recipes for FREE ($20.95 value)
Don't have a Kindle?

This ebook is specifically for Kindles. However, you can download a free application which enables you to read Kindle ebooks on your computer, iphone, Android, Blackberry, iPad and more.
Need a Kindle?
Why pay for books when you can get them free? See more FREE ebook offers!
Product prices and availability are accurate as of the date/time indicated and are subject to change. Any price and availability information displayed on amazon.com at the time of purchase will apply to the purchase of this product.