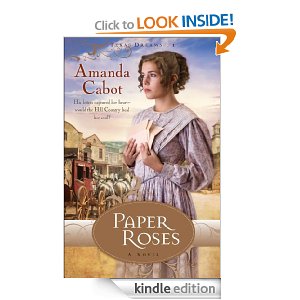 Download Paper Roses (Texas Dreams Book #1): A Novel
by Amanda Cabot for FREE on Amazon. The regular price is $14.99 and can change back at any time.
The future stretches out in front of Sarah Dobbs like the pure blue Texas sky. Leaving the past behind in Philadelphia, mail-order bride Sarah arrives in San Antonio ready to greet her groom, Austin Canfield, a man she has never met but whose letters have won her heart from afar. But there is one problem–he has died. And Sarah cannot go back East.

As Sarah tries to reconcile herself to a future that is drastically changed, Austin's brother, Clay, struggles with his own muddled plans. Though he dislikes working on the family ranch and longs for a different life, Clay is driven to avenge his brother's death. But something between them is growing and neither Clay nor Sarah is ready to admit it.
Don't have a Kindle?
This ebook is specifically for Kindles. However, you can download a free application which enables you to read Kindle ebooks on your computer, iphone, Android, Blackberry, iPad and more.
You can also download the same FREE ebooks for the Nook over at the Barnes & Nobles site!
Why pay for books when you can get them free? See more FREE offers!
Product prices and availability are accurate as of the date/time indicated and are subject to change. Any price and availability information displayed on amazon.com at the time of purchase will apply to the purchase of this product.