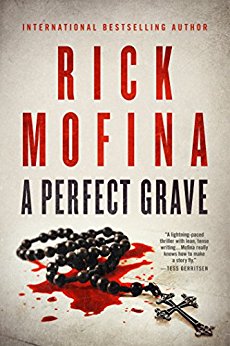 Amazon has A Perfect Grave for FREE download to your Kindle. If you don't own a Kindle you can install the Kindle version for your PC, Android, Tablet, etc. and still get all the free books! As always Amazon prices will and do change in an instant so you will want to hurry for this great price! Read more about this book from Amazon's description:
Rookie crime reporter Jason Wade, a troubled loner from the wrong side of the tracks, pursues the story of a murdered Seattle nun.
The case leads him to a hermit nun who founded a mysterious religious order; and ultimately to the dark secret that has tormented his ex-cop father for decades. It culminates in a life and death struggle against the clock. With time running out, Jason and his father battle the odds to confront a terrible truth.
Rick Mofina is a former journalist who has interviewed murderers on death row, flown over L.A. with the LAPD and patrolled with the Royal Canadian Mounted Police near the Arctic. He's also reported from the Caribbean, Africa and Kuwait's border with Iraq. His books have been published in nearly 30 countries, including an illegal translation produced in Iran.
Don't have a Kindle?

This ebook is specifically for Kindles. However, you can download a free application which enables you to read Kindle ebooks on your computer, iphone, Android, Blackberry, iPad and more.
Need a Kindle?
Why pay for books when you can get them free? See more FREE ebook offers!
Product prices and availability are accurate as of the date/time indicated and are subject to change. Any price and availability information displayed on amazon.com at the time of purchase will apply to the purchase of this product.