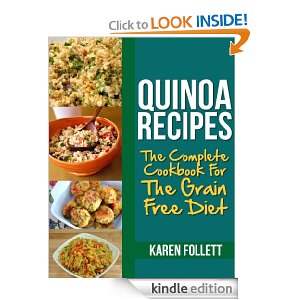 When I met with Cara, the Healthy Eating Specialist at my local Whole Foods, we talked about the benefits of quinoa. I'd never had quinoa, so it was one of the foods that I was urged to add to my diet. If you're like me, you need a little extra help learning how to cook such foods. Just download Quinoa Recipes: The Complete Cookbook For The Grain Free Diet
for FREE on Amazon to get started to an eCookbook especially for quinoa!
As more and more individuals become knowledgeable of quinoa and the benefits they seek various ways to prepare and consume it. This is where this books fits in. it is a wonderful way to try out some old recipes with a unique twist. Quinoa has been used for years for both nutritional and medicinal purposes and is just now making a comeback as an important source of nutrients.
This book also helps the individual that knows nothing at all about quinoa to not only learn what it is but also to learn how long it has been used by humans and for what purpose it was used and how it being used today. Health and wellness is a major platform being bandied about and quinoa is one of the major players in that. To be healthy and to accrue the benefits that quinoa has one has to read the book to learn the best ways to incorporate it into the diet.
Don't have a Kindle?
This ebook is specifically for Kindles. However, you can download a free application which enables you to read Kindle ebooks on your computer, iphone, Android, Blackberry, iPad and more.
You can also download the same FREE ebooks for the Nook over at the Barnes & Nobles site!
Why pay for books when you can get them free? See more FREE offers!
Product prices and availability are accurate as of the date/time indicated and are subject to change. Any price and availability information displayed on amazon.com at the time of purchase will apply to the purchase of this product.