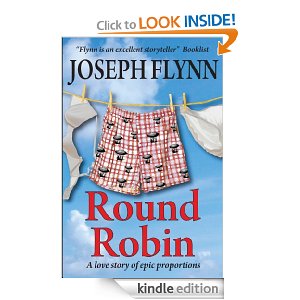 Today's FREE ebook is Round Robin – A Love Story of Epic Proportions
by Joseph Flynn.
Round Robin Phinney…
She's 230 pounds of bad attitude. She dishes out sandwiches and insults to the customers at Screaming Mimi's deli. She takes a dim view of people in general and men in particular.
Her home is her sanctuary. She has an apartment upstairs. Downstairs, she's created a private park, lushly landscaped, dotted with ponds, furnished with two Chicago Park District benches.
Manfred Welk is what Charles Atlas would have looked like if he'd been serious about lifting weights. A former Olympic powerlifter for East Germany, his ex-wife turned him in for spying. Brought to Chicago after the fall of the Berlin Wall, he needs a place to live.
Don't have a Kindle?

This ebook is specifically for Kindles. However, you can download a free application which enables you to read Kindle ebooks on your computer, iphone, Android, Blackberry, iPad and more.
Need a Kindle?
Why pay for books when you can get them free? See more FREE ebook offers!
Product prices and availability are accurate as of the date/time indicated and are subject to change. Any price and availability information displayed on amazon.com at the time of purchase will apply to the purchase of this product.