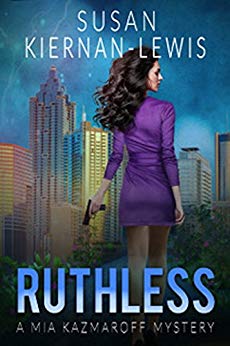 Amazon has Ruthless: Book 6 of the Mia Kazmaroff Mysteries for FREE download to your Kindle. If you don't own a Kindle you can install the Kindle version for your PC, Android, Tablet, etc. and still get all the free books! As always Amazon prices will and do change in an instant so you will want to hurry for this great price! Read more about this book from Amazon's description:
A serial killer stalks the streets of Atlanta. Dubbed the Weekend Killer, the murderer takes his victims on Friday and sends a souvenir to the Atlanta Major Crimes Division of the Atlanta Police Department by Saturday morning. Next, a body part arrives on Sunday followed by a typewritten note Monday morning describing where the body may be found. The pattern is clearly intended to provoke the police—down to the untraceable fingerprints the killer doesn't bother to wipe and right up to the moment when Mia's new stepsister Mindy is the next victim.
Don't have a Kindle?

This ebook is specifically for Kindles. However, you can download a free application which enables you to read Kindle ebooks on your computer, iphone, Android, Blackberry, iPad and more.
Need a Kindle?
Why pay for books when you can get them free? See more FREE ebook offers!
Product prices and availability are accurate as of the date/time indicated and are subject to change. Any price and availability information displayed on amazon.com at the time of purchase will apply to the purchase of this product.