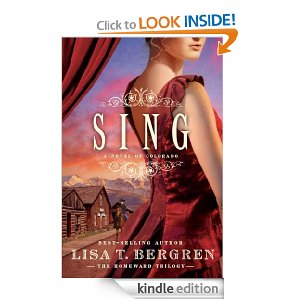 Today's FREE kindle book is Sing: A Novel of Colorado
by Lisa T. Bergren.  The regular price is $14.99 and can change back at any time.
Moira St. Clair has done exactly what her father forbade her to do: chased her dreams to sing on the stage. But even as her star rises, she becomes more vulnerable to those who wish to use her—or bring her down….

It is 1886, and the St. Clairs are living out their dreams in three very separate parts of the world—Paris, Brazil and Colorado. And while each has found a measure of success and joy, each is haunted by past sins and secrets.
Don't have a Kindle?
This ebook is specifically for Kindles. However, you can download a free application which enables you to read Kindle ebooks on your computer, iphone, Android, Blackberry, iPad and more.
You can also download the same FREE ebooks for the Nook over at the Barnes & Nobles site!
Why pay for books when you can get them free? See more FREE offers!
Product prices and availability are accurate as of the date/time indicated and are subject to change. Any price and availability information displayed on amazon.com at the time of purchase will apply to the purchase of this product.