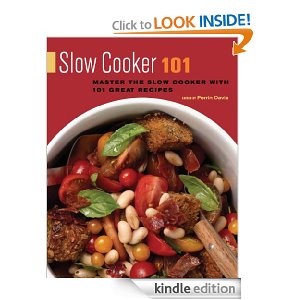 Using my crockpot is one of my favorite ways to cook, so I downloaded Slow Cooker 101: Master the Slow Cooker with 101 Great Recipes
for FREE on Amazon today. The regular price is $19.95 and can change back at any time.
Perfect both for beginners and more experienced cooks looking to broaden their kitchen horizons, Slow Cooker 101's breadth of recipes are drawn from a wide range of culinary traditions. Among the delicious recipes include here:
Beef Stroganoff
Lamb Biryani
Paella
Winter Vegetable Risotto
Corn Pudding
Chicken Mole
Cioppino
Don't have a Kindle?
This ebook is specifically for Kindles. However, you can download a free application which enables you to read Kindle ebooks on your computer, iphone, Android, Blackberry, iPad and more.
You can also download the same FREE ebooks for the Nook over at the Barnes & Nobles site!
Why pay for books when you can get them free? See more FREE offers!
Product prices and availability are accurate as of the date/time indicated and are subject to change. Any price and availability information displayed on amazon.com at the time of purchase will apply to the purchase of this product.