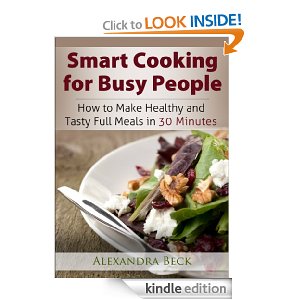 Today's FREE ebook is Smart Cooking for Busy People: How to Make Healthy and Tasty Full Meals in 30 Minutes
by Alexandra Beck.
Whether you are an omnivore, vegetarian, low-carber or a paleo adept, you'll find in this book multi-course quick meals including:

– appetizers such as bruschetta, tomato soup and Greek salad,

– main dishes such as baked salmon, roasted tofu with green beans and chicken stir fry,

– healthy sides dishes, such as buckwheat, quinoa and steamed potatoes, and

– a few yummy low-calorie desserts.

All health and nutrition information in this book is grounded in recent studies on the effects of different foods on health, referenced and annotated for your convenience at the end of the book.

To sum up, if you enjoy good food (think Mediterranean diet meets healthy Asian cuisines), and if you like the idea of preparing it super fast, then check out this cookbook for busy people!
Don't have a Kindle?

This ebook is specifically for Kindles. However, you can download a free application which enables you to read Kindle ebooks on your computer, iphone, Android, Blackberry, iPad and more.
Need a Kindle?
Why pay for books when you can get them free? See more FREE ebook offers!
Product prices and availability are accurate as of the date/time indicated and are subject to change. Any price and availability information displayed on amazon.com at the time of purchase will apply to the purchase of this product.