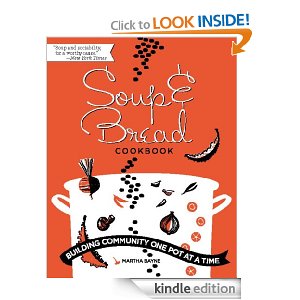 Today's FREE ebook has a $20.95 value! Order Soup and Bread Cookbook: Building Community One Pot at a Time
by Martha Bayne for FREE while it lasts.
The Soup and Bread Cookbook aims to explore the social role of soup through a collection of terrific, affordable recipes from food activists, chefs, and others. This quirky exploration of the cultural history of soup as a tool for both building community and fostering social justice is the result of a brainstorm: eating your way through a pot of soup day after day can get boring — why not get together and swap some with friends? Now neighbors across the country are getting together regularly for home-based "soup swaps." In Chicago, the arts collective InCUBATE uses soup as a microfunding tool. And of course, soup can be a political statement: the radical volunteers of Food Not Bombs have been providing free vegetarian soup to the hungry as a protest against war and social injustice since 1980. These are just a few examples of the stories Bayne wraps around a collection of delicious, accessible, and tested soup recipes.
Don't have a Kindle?
This ebook is specifically for Kindles. However, you can download a free application which enables you to read Kindle ebooks on your computer, iphone, Android, Blackberry, iPad and more.
You can also download the same FREE ebooks for the Nook over at the Barnes & Nobles site!
Why pay for books when you can get them free? See more FREE offers!
Product prices and availability are accurate as of the date/time indicated and are subject to change. Any price and availability information displayed on amazon.com at the time of purchase will apply to the purchase of this product.