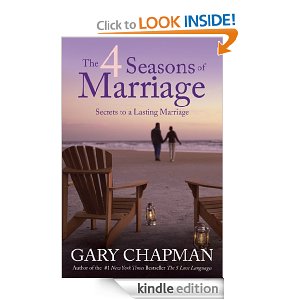 Since Valentines Day is tomorrow, your FREE ebook of the day is The 4 Seasons of Marriage: Secrets to a Lasting Marriage
by Gary Chapman. The regular price is $14.99 and can change back at any time.
Spring, summer, winter, fall. Marriages are perpetually in a state of transition, continually moving from one season to another—perhaps not annually, as in nature, but just as certainly and consistently. Sometimes we find ourselves in winter—discouraged, detached, and dissatisfied; other times, we experience springtime with its openness, hope, and anticipation. On other occasions, we bask in the warmth of summer—comfortable, relaxed, enjoying life. And then comes fall with its uncertainty, negligence, and apprehension. The cycle repeats itself many times throughout the life of a marriage, just as the seasons repeat themselves in nature.
Don't have a Kindle?
This ebook is specifically for Kindles. However, you can download a free application which enables you to read Kindle ebooks on your computer, iphone, Android, Blackberry, iPad and more.
You can also download the same FREE ebooks for the Nook over at the Barnes & Nobles site!
Why pay for books when you can get them free? See more FREE offers!
Product prices and availability are accurate as of the date/time indicated and are subject to change. Any price and availability information displayed on amazon.com at the time of purchase will apply to the purchase of this product.