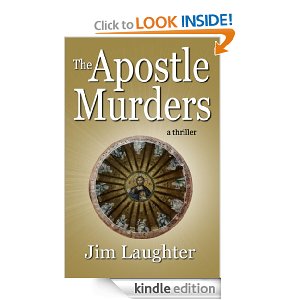 Today's FREE ebook is The Apostle Murders
by Jim Laughter.
Reverend Samuel (Preach) Preston is a full-time Christian evangelist traveling the country preaching the gospel of Jesus Christ. But Preach is on a mission — a mission to re-create the martyrdom of the original apostles of Jesus Christ. To his family he is father and grandfather. To the Christian world, he is a dedicated man of God. But to FBI agents Duncan Morris, Lynn Keller, and George Benjamin, he is a serial killer they must stop before he can kill again.
Don't have a Kindle?

This ebook is specifically for Kindles. However, you can download a free application which enables you to read Kindle ebooks on your computer, iphone, Android, Blackberry, iPad and more.
Need a Kindle?
Why pay for books when you can get them free? See more FREE ebook offers!
Product prices and availability are accurate as of the date/time indicated and are subject to change. Any price and availability information displayed on amazon.com at the time of purchase will apply to the purchase of this product.