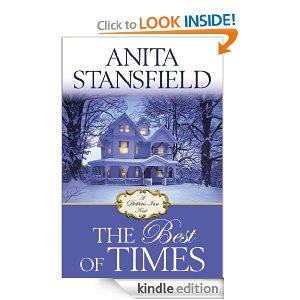 Today's FREE ebook is The Best of Times: A Dicken's Inn Novel
by Anita Stansfield.
A sprawling Montana setting; a charming bed-and-breakfast inn brimming with Dickensian decor; a beautiful and deeply spiritual innkeeper with secret sorrows from her past; a Granny who is as delightful as she is wise; and a handsome guest whose lifestyle and past are both troubled and troubling these are the elements of a captivating novel of romance and intrigue. With characters that are vital and vulnerable, and a plot that is wholly unpredictable, this story is a journey of choices and amazing opportunities. Once again, Anita Stansfield proves her versatility as a storyteller extraordinaire in this novel that is an ingenious blend of romance, mystery, and Dickensian charm. The Best of Times will prove to be a favorite in the best Stansfield tradition. Volume 1 in the series.
Don't have a Kindle?

This ebook is specifically for Kindles. However, you can download a free application which enables you to read Kindle ebooks on your computer, iphone, Android, Blackberry, iPad and more.
Need a Kindle?
Why pay for books when you can get them free? See more FREE ebook offers!
Product prices and availability are accurate as of the date/time indicated and are subject to change. Any price and availability information displayed on amazon.com at the time of purchase will apply to the purchase of this product.