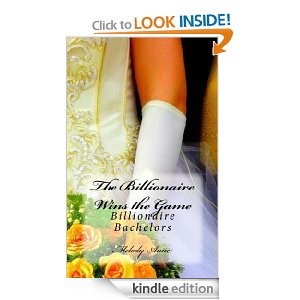 Today only you can get The Billionaire Wins the Game (Billionaire Bachelors – Book One)
by Melody Anne.
Joseph Anderson has decided it's time for his three successful sons to find brides. Joseph wants grandchildren to fill his mansion, and he wants them immediately. His eldest son, Lucas, is successful in all areas of his life, except love, and Joseph begins matchmaking. He finds Amy Harper and deems her the perfect daughter-in-law. He just needs to get her and Lucas to both realize they're made for each other.
Don't have a Kindle?

This ebook is specifically for Kindles. However, you can download a free application which enables you to read Kindle ebooks on your computer, iphone, Android, Blackberry, iPad and more.
Need a Kindle?
Why pay for books when you can get them free? See more FREE ebook offers!
Product prices and availability are accurate as of the date/time indicated and are subject to change. Any price and availability information displayed on amazon.com at the time of purchase will apply to the purchase of this product.