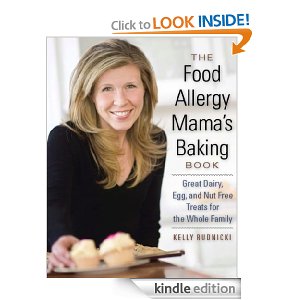 Here is another awesome FREE ebook today – The Food Allergy Mama's Baking Book: Great Dairy-, Egg-, and Nut-Free Treats for the Whole Family
by Kelly Rudniki. The regular price is $19.95 and can change back at any time.
he Food Allergy Mama's Baking Book is a one-stop guide to delicious, everyday baked goods free of dairy, eggs, and nuts — the most common food allergens. It offers timeless, foolproof recipes that are easy to prepare even for kitchen novices. It's an invaluable resource for home bakers (and their families) who loves sweets and treats. These recipes are more than delicious enough to be enjoyed by everyone who craves great baked treats, whether they have food allergies or not. But they fill a particular need for families who find baking at home to be the smartest and safest option. All the traditional favorites are included, with chapters devoted to the best and tastiest muffins and quick breads, cookies and bars, and all manner of cakes, pies, crisps, and cobblers. In addition, the book is filled with practical advice about dealing with classroom and birthday parties, as well as easy ingredient substitution ide
Don't have a Kindle?

This ebook is specifically for Kindles. However, you can download a free application which enables you to read Kindle ebooks on your computer, iphone, Android, Blackberry, iPad and more.
Need a Kindle?
Why pay for books when you can get them free? See more FREE ebook offers!
Product prices and availability are accurate as of the date/time indicated and are subject to change. Any price and availability information displayed on amazon.com at the time of purchase will apply to the purchase of this product.
Thanks, Wheel n Deal Mama!