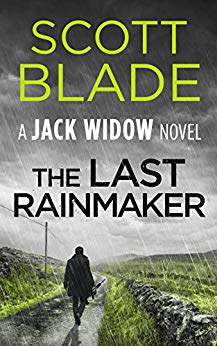 Amazon has The Last Rainmaker (Jack Widow Book 9) for FREE download to your Kindle. If you don't own a Kindle you can install the Kindle version for your PC, Android, Tablet, etc. and still get all the free books! As always Amazon prices will and do change in an instant so you will want to hurry for this great price! Read more about this book from Amazon's description:
A deadly range. The world record for the longest range sniper kill shot. Ever. No contest. No question. What happens when a new sniper comes alone and takes out the world's top shooter from further away? Terror.
Jack Widow is unlucky enough to end up in the hospital after an accidental train crash. Wrong place. Wrong time. But his luck goes from bad to worse when CIA Agent Benico Teller, forgotten, walks out of Widow's past and into his hospital room with classified intel that Widow must hear and an offer that he can't refuse.
Don't have a Kindle?

This ebook is specifically for Kindles. However, you can download a free application which enables you to read Kindle ebooks on your computer, iphone, Android, Blackberry, iPad and more.
Need a Kindle?
Why pay for books when you can get them free? See more FREE ebook offers!
Product prices and availability are accurate as of the date/time indicated and are subject to change. Any price and availability information displayed on amazon.com at the time of purchase will apply to the purchase of this product.