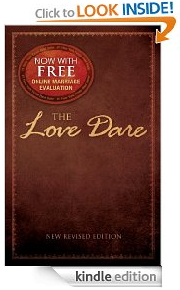 Did you like the movie Fireproof?
Right now on Amazon you can download The Love Dare for FREE to your Kindle, PC, Smart Phone or Tablet 🙂
Be sure to double check the price before you click "buy" as prices can change quickly!
Unconditional love is eagerly promised at weddings, but rarely practiced in real life. As a result, romantic hopes are often replaced with disappointment in the home. But it doesn't have to stay that way.
The Love Dare, the New York Times No. 1 best seller that has sold five million copies and was major plot device in the popular movie Fireproof, is a 40-day challenge for husbands and wives to understand and practice unconditional love. Whether your marriage is hanging by a thread or healthy and strong, The Love Dare is a journey you need to take. It's time to learn the keys to finding true intimacy and developing a dynamic marriage.
This second edition also features a special link to a free online marriage evaluation, a new preface by Stephen and Alex Kendrick, minor text updates, and select testimonials from The Love Dare readers. Take the dare!
Thanks, A Frugal Chick!
And if you're in the market for a Kindle (I LOVE mine!) then check out this deal.