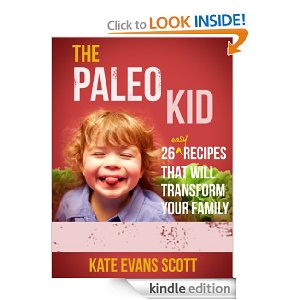 Today's FREE ebook is The Paleo Kid: 26 Easy Recipes That Will Transform Your Family (Primal Gluten Free Kids Cookbook)
by Kate Evans Scott.
This book will help you get back to basics and cook real whole foods with your children, without all the processed fillers, by making cooking fun and educational. Each recipe is Authentically Paleo and includes step by step instructions, estimated prep times, and great tips for including children in the cooking process. 'The Paleo Kid' makes eating healthy simple with 26 kid tested recipes for breakfast, lunch, dinner and snacks that the whole family will love! Comfort foods that not only nourish, but satisfy cravings by steering your child toward protein rich meats, vegetables, fruits, nuts and healthy fats while avoiding potential allergens like gluten, grains, dairy, and legumes. The recipes in this book are perfect for an allergy free diet. Allergy free diets have been proven to be helpful for children suffering from autism, ADHD, and asthma.
Don't have a Kindle?

This ebook is specifically for Kindles. However, you can download a free application which enables you to read Kindle ebooks on your computer, iphone, Android, Blackberry, iPad and more.
Need a Kindle?
Why pay for books when you can get them free? See more FREE ebook offers!
Product prices and availability are accurate as of the date/time indicated and are subject to change. Any price and availability information displayed on amazon.com at the time of purchase will apply to the purchase of this product.