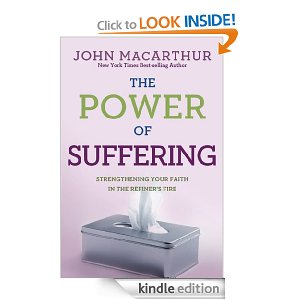 Today's FREE ebook is The Power of Suffering: Strengthening Your Faith in the Refiner's Fire
by John MacArthur Jr and is a $14.95 value!
In today's modern world of convenience and comfort, suffering can seem senseless. This idea has even crept into the church, where many believe that if we make the right choices and do the right things, pain can be avoided. So it's little wonder that when do encounter tough situations, we face even tougher questions: Why does God allow suffering? Where is God when I'm hurting?

 

The Power of Suffering takes an in-depth, honest look at the reality of pain and hurt in the life of a believer. Filled with rich Biblical truths and fresh insights, this study explores how God ultimately uses suffering for good in the lives of His children, and offers encouragement and hope for the heavy heart.
Don't have a Kindle?

This ebook is specifically for Kindles. However, you can download a free application which enables you to read Kindle ebooks on your computer, iphone, Android, Blackberry, iPad and more.
Need a Kindle?
Why pay for books when you can get them free? See more FREE ebook offers!
Product prices and availability are accurate as of the date/time indicated and are subject to change. Any price and availability information displayed on amazon.com at the time of purchase will apply to the purchase of this product.