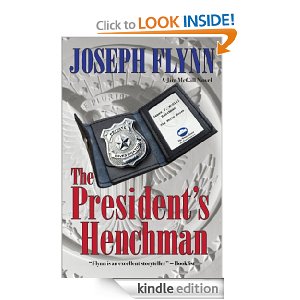 Today's FREE ebook is The President's Henchman (The First Jim McGill Novel)
by Joseph Flynn.
According to the polls, it's only a matter of time — and not that long a time — before the United States elects its first female president. Which will make her husband — what?
Well, if he's the ex-cop who solved the murder of the president's first husband and brought the killers to justice … and if he's not the kind of guy to stand on formality … and if he doesn't want to be the head of the FBI … and if he takes out a license and becomes the first private eye to live in the White House …
Don't have a Kindle?

This ebook is specifically for Kindles. However, you can download a free application which enables you to read Kindle ebooks on your computer, iphone, Android, Blackberry, iPad and more.
Need a Kindle?
Why pay for books when you can get them free? See more FREE ebook offers!
Product prices and availability are accurate as of the date/time indicated and are subject to change. Any price and availability information displayed on amazon.com at the time of purchase will apply to the purchase of this product.