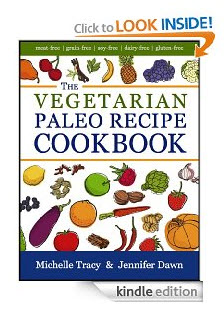 Today's FREE kindle book is The Vegetarian Paleo Recipe Cookbook: 47 All Natural Gluten-Free Meals and Desserts (The Paleo Recipe Cookbooks)
.  The regular price is $2.99 and can change back at any time.
From breakfast to lunch, dinner and dessert, The Vegetarian Paleo Recipe Cookbook features 47 simple and tasty meals free from gluten, grains, dairy, soy and refined sugar.

Indulge in paleo-inspired vegetarian recipes such as comforting pancakes, delicious smoothies, creamy soups, savory casseroles and satisfying desserts. Many meals include five ingredients or less, so you can enjoy eating without much fuss, even when you only have a few minutes.
Don't have a Kindle?
This ebook is specifically for Kindles. However, you can download a free application which enables you to read Kindle ebooks on your computer, iphone, Android, Blackberry, iPad and more.
You can also download the same FREE ebooks for the Nook over at the Barnes & Nobles site!
Why pay for books when you can get them free? See more FREE offers!
Product prices and availability are accurate as of the date/time indicated and are subject to change. Any price and availability information displayed on amazon.com at the time of purchase will apply to the purchase of this product.