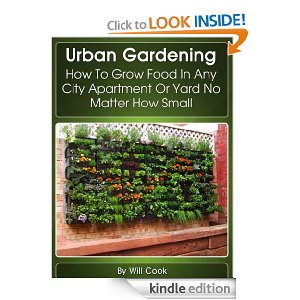 I've got another FREE ebook for you today, download Urban Gardening: How To Grow Food In Any City Apartment Or Yard No Matter How Small (Growing Indoors, On Rooftop , Small Yards, Balcony Gardens, Planting In Containers, Aeroponic Gardening Systems)
by Will Cook while it lasts. This book could have some great tips to help you garden in a small space.
Even if you only have a tiny balcony to work with, you can grow fresh food and flowers there. You've probably already considered container gardening – but what about vertical gardening with vining plants that can grow up the wall or using a vertical aeroponics gardening system that can grow 20+ plants in a 4 square foot area?
Don't have a Kindle?
This ebook is specifically for Kindles. However, you can download a free application which enables you to read Kindle ebooks on your computer, iphone, Android, Blackberry, iPad and more.
You can also download the same FREE ebooks for the Nook over at the Barnes & Nobles site!
Why pay for books when you can get them free? See more FREE offers!
Product prices and availability are accurate as of the date/time indicated and are subject to change. Any price and availability information displayed on amazon.com at the time of purchase will apply to the purchase of this product.