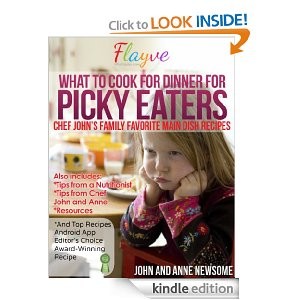 Today's FREE ebook is What to Cook for Dinner for Picky Eaters
by John and Anne Newsome. Anyone else just love the little girls face?
What to Cook for Dinner for Picky Eaters: Chef John's Family-Favorite Main Dish Recipes, by Chef John Newsome and his wife, Anne, is your ticket to getting your child to eat more, eat better, and try new, delicious foods that the whole family will love.

Each of the 23 delicious main dish recipes, ranging from a quick and easy macaroni and cheese recipe (with an ingredient many may have never thought to try) to a little more sophisticated pasta recipe, was developed by Chef John and was given the thumbs up by the Newsome's own in-house picky eaters. The recipes will give you a variety of meats and flavor combinations to try with your children.
Don't have a Kindle?

This ebook is specifically for Kindles. However, you can download a free application which enables you to read Kindle ebooks on your computer, iphone, Android, Blackberry, iPad and more.
Need a Kindle?
Why pay for books when you can get them free? See more FREE ebook offers!
Product prices and availability are accurate as of the date/time indicated and are subject to change. Any price and availability information displayed on amazon.com at the time of purchase will apply to the purchase of this product.