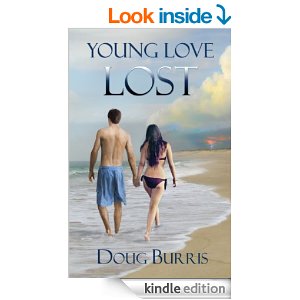 Download Young Love Lost
by Doug Burris for FREE on Amazon. The regular digital price is $3.99 and can change back at any time.
While vacationing on the beach at Emerald Isle, North Carolina, high school student David Jennings meets an intriguing girl. Mary Roberts ignites feelings that stay with him even after they both return to their homes. Summer after summer, they reunite, building on the love that started to bloom from the first day.
Not only does David discover romance, but he also learns what "family" can mean. The loving Roberts family is in stark contrast to the Jennings. David is the only child of Roy, an ex-Marine and rigid cop, and secretive Sarah. As the young couple explores their future, the family secrets unravel—until tragic events manage to both bring together and divide the two families.
Don't have a Kindle?

This ebook is specifically for Kindles. However, you can download a free application which enables you to read Kindle ebooks on your computer, iphone, Android, Blackberry, iPad and more.
Need a Kindle?
Why pay for books when you can get them free? See more FREE ebook offers!
Product prices and availability are accurate as of the date/time indicated and are subject to change. Any price and availability information displayed on amazon.com at the time of purchase will apply to the purchase of this product.