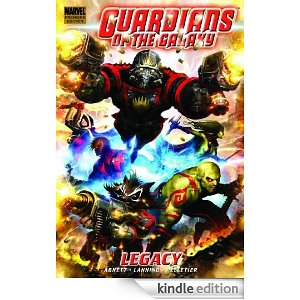 Purchase Guardians of the Galaxy, Vol. 1: Legacy: Legacy Premiere v. 1
for just $3.99 – was $10.99!
Collects Guardians of the Galaxy #1-6. Back-to-back Annihilation wars have weakened the boundaries of our universe. Dark gods and monsters are seeping through the cracks, reigning horror upon many worlds. In the face of terror, who stands to defend a desperate universe? Star-Lord and his squad of butt-kickers – the modern day Guardians of the Galaxy!
Don't have a Kindle?

This ebook is specifically for Kindles. However, you can download a free application which enables you to read Kindle ebooks on your computer, iphone, Android, Blackberry, iPad and more.
Need a Kindle?
Product prices and availability are accurate as of the date/time indicated and are subject to change. Any price and availability information displayed on amazon.com at the time of purchase will apply to the purchase of this product.