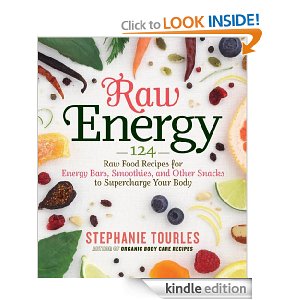 Still Available:
Are you trying to get fit for 2013?
Right now you can purchase Raw Energy: 124 Raw Food Recipes for Energy Bars, Smoothies, and Other Snacks to Supercharge Your Body
for only $2.99 – was $16.95!!
It's time to rescue snacks from the realm of empty-calorie packaged junk food and transform everyday pick-me-ups into healthful, satisfying mini meals. Why waste calories on cookies or chips that have no nutritional value and provide only short-term satisfaction when raw foods are delicious, simple to prepare, and bursting with natural energy boosters that everybody needs to stay fit and healthy?
Don't have a Kindle?
This ebook is specifically for Kindles. However, you can download a free application which enables you to read Kindle ebooks on your computer, iphone, Android, Blackberry, iPad and more.
Product prices and availability are accurate as of the date/time indicated and are subject to change. Any price and availability information displayed on amazon.com at the time of purchase will apply to the purchase of this product.