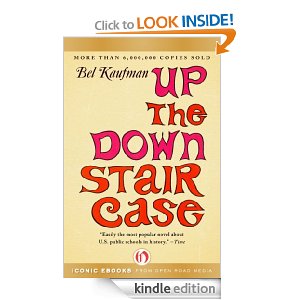 Today is the last day my kids are in school, so I thought sharing a book on teaching would be appropriate. Purchase Up the Down Staircase
by Bel Kaufman for $1.99 – was $13.99!
Bel Kaufman's bestselling classic, about a young teacher's efforts to reach her students and the odd, amusing, and poignant ways that the students respond

When Miss Barrett arrives at Calvin Coolidge High, fresh from earning literature degrees at Hunter College, she can hardly wait to shape young minds. Instead, she encounters broken windows, no supplies, students who would rather be anyplace else, and a stifling bureaucracy that makes her job more difficult at every turn.
Don't have a Kindle?

This ebook is specifically for Kindles. However, you can download a free application which enables you to read Kindle ebooks on your computer, iphone, Android, Blackberry, iPad and more.
Need a Kindle?
Product prices and availability are accurate as of the date/time indicated and are subject to change. Any price and availability information displayed on amazon.com at the time of purchase will apply to the purchase of this product.