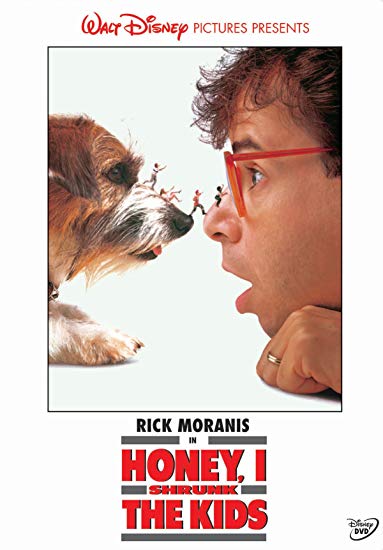 I love this movie! Get Honey, I Shrunk the Kids DVD for $4.99 – was $6.25!
This item is available because of the Add-on program
The Add-on program allows Amazon to offer thousands of low-priced items that would be cost-prohibitive to ship on their own. These items ship with qualifying orders over $25.
Get set for the adventure of a lifetime in the #1 comedy hit of the year, HONEY, I SHRUNK THE KIDS! Rick Moranis stars as a preoccupied inventor who just can't seem to get his electro-magnetic shrinking machine to work. Then, when he accidentally shrinks his kids down to one-quarter-inch tall and tosses them out in the trash, the real adventure begins! Now the kids face incredible dangers as they try to make their way home through the jungle of their own backyard! Hurricane sprinklers! Dive-bombing bees! A runaway lawn mower and much, much more! Directed by Academy Award(R)-winner Joe Johnston (Visual Effects, RAIDERS OF THE LOST ARK, 1981), this record-breaking smash is full of amazing special effects, hilarious comedy, wild chases, and nonstop surprises!|Early on one of the characters realizes, "We're now a quarter of an inch tall and 64 feet from the house. That's an equivalent of 3.2 miles."|The movie was directed by Joe Johnston, who won a 1981 Academy Award® for Visual Effects for RAIDERS OF THE LOST ARK.
Your order will qualify for FREE shipping with Super Saver Shipping on orders over $35 or with Amazon Prime .  Or orders of $25 if purchasing eligible books. You can also sign-up for a FREE 1-month trial of Amazon Prime HERE to test it out and see if it works for you.  Try Prime for free.
Amazon Prime offers multiple benefits including:
FREE Two-Day Shipping for eligible purchases.
Access to Amazon Instant Video
Ability to borrow books from the Kindle Owners' Lending Library.
Product prices and availability are accurate as of the date/time indicated and are subject to change. Any price and availability information displayed on amazon.com at the time of purchase will apply to the purchase of this product.
Check out these other Amazon Deals: