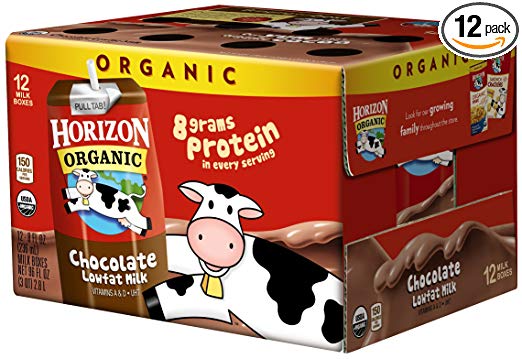 Grab Horizon Organic, Low Fat Milk, Chocolate, 8-Ounce Aseptic Cartons (Pack of 12) for just $9.12 after you clip the 20% off coupon and select the Subscribe and Save option.  That's $0.76 per carton!
IF you have 5 or more Subscribe and Save purchases, pay even less!
Need help finding 5 Subscribe & Save deals? You can see a listing of all my recent Subscribe and Save posts here to help you get to that 15% savings on ALL your Subscribe & Save purchases!
CONTAINS 12 SINGLE-SERVE milk cartons which are great for lunchboxes, snacks, travel, plane rides, road trips, vacations, picnics, playtime, school trips & more. Our shelf-stable milk boxes are a perfect, calcium & protein rich alternative to juice boxes.

HORIZON ORGANIC Low Fat Chocolate Milk is USDA Certified Organic and part of the National Organic Program, which prohibits the use of GMOs. Our milk boxes are a choice you can feel great about packing for school lunches or road trips to Grandma's.

HORIZON SINGLE SERVES are safe to drink room temperature but should be chilled and shaken before opening for maximum enjoyment. Besides being safe & nutritious, single serve containers are portable and convenient for lunchboxes, soccer practice or ballet.

ORGANIC MAKES ALL THE DIFFERENCE: Our products are always made without GMOs, & our cows are pasture-raised on family farms without antibiotics or . When it comes to food, we think it's best to stick to the basics & keep the weird stuff out.

CREAMY COMPARISON: Compare Horizon Organics dairy products to brands like Raw & Root, Tuscan Dairy, Darigold, fairlife, Ageless Derma, Milka, Milkman, Nutra Naturally, Lactaid, Nesquik, Natrel, Milk Kefir Grains, Mt Capra, or Maple Hill.
*You can cancel Subscribe and Save at anytime after your order ships.
Product prices and availability are accurate as of the date/time indicated and are subject to change. Any price and availability information displayed on amazon.com at the time of purchase will apply to the purchase of this product.