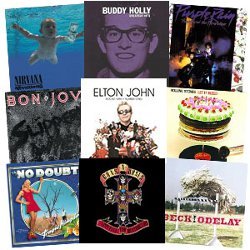 In Case you Missed It:
Answer a Question, Get One of 20 Great Albums for $1.99!!  This is a great way to get a popular album such as Elton John, Nirvana, Jay-Z, the Rolling Stones, No Doubt of more for less!
For a limited time, we will give you a credit that will allow you to get one of 20 eligible titles for just $1.99. All you have to do is let your Facebook friends know what your pick is for the greatest album of all time by typing it in the box below and clicking the blue button. After you do that, we will automatically add a credit to your account. Next, choose which of the eligible titles you'd like to buy, click through to the product details page, and click the "buy" button. You will see the regular price on the product details page but we will only charge you $1.99.
Upon completion of the "Share & Claim" action, a promotional credit to purchase one of these 20 eligible titles for $1.99 will be automatically applied to your Amazon account. Promotional credits must be redeemed by 11:59 PM PST on December 17, 2012.
Don't forget that you can download these songs/albums to your computer and add them to your iTunes account.
Product prices and availability are accurate as of the date/time indicated and are subject to change. Any price and availability information displayed on amazon.com at the time of purchase will apply to the purchase of this product.