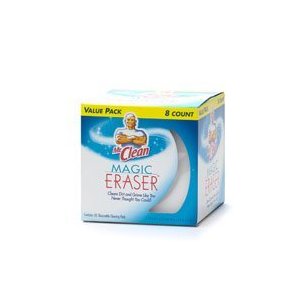 Amazon has Mr. Clean Magic Eraser Cleaning Pads, 8-Count Box
for just $6.64 shipped after you choose the Subscribe & Save option. These are a must if you have children!  My little lady decided to draw all over her bookshelf and the Magic Eraser was the only product that got all the drawings off – without ruining the finish.
Works with water alone!
Cleans scuff marks and dirt from walls, floors and doors
Removes set-in dirt on stoves, refrigerators and other appliances
Breaks up tough bathroom soap scum
Try it out wherever you find tough dirt: patio furniture, car & boat interiors, athletic shoe soles, leather uppers and much more!
Product prices and availability are accurate as of the date/time indicated and are subject to change. Any price and availability information displayed on amazon.com at the time of purchase will apply to the purchase of this product.
Thanks, A Thrifty Mom!