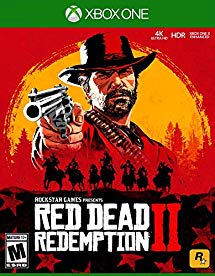 K just told me THE game for the 2018 holiday season (well, one of them) will be Red Dead Redemption 2. The pre-order price is $59.95 and is available for the Xbox One and PS4.
This item will be released on October 26, 2018.
Developed by the creators of Grand Theft Auto V and Red Dead Redemption, Red Dead Redemption 2 is an epic tale of life in America's unforgiving heartland. The game's vast and atmospheric world will also provide the foundation for a brand new online multiplayer experience.

Publisher: Rockstar Games

Developer: Rockstar Studios

Pre-Order Red Dead Redemption 2 to get the War Horse and Outlaw Survival Kit
Your order will qualify for FREE shipping with Super Saver Shipping on orders over $35 or with Amazon Prime .  Or orders of $25 if purchasing eligible books. You can also sign-up for a FREE 1-month trial of Amazon Prime HERE to test it out and see if it works for you.  Try Prime for free.
Amazon Prime offers multiple benefits including:
FREE Two-Day Shipping for eligible purchases.
Access to Amazon Instant Video
Ability to borrow books from the Kindle Owners' Lending Library.
Product prices and availability are accurate as of the date/time indicated and are subject to change. Any price and availability information displayed on amazon.com at the time of purchase will apply to the purchase of this product.
Check out these other Amazon Deals: