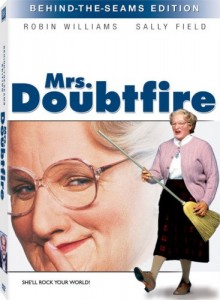 When I heard about Robin Williams' passing I will admit I cried…a lot. His movies and humor always seemed to touch a cord with me so I immediately felt a loss and wanted to watch all his movies…and get those I didn't own. If you enjoyed the movies of Robin Williams as much as me, grab some of his classics for as low as $4.99:
Robots (Widescreen Edition)
– $4.99
Mrs. Doubtfire (Behind-the-Seams Edition)
– $5.00
Hook
– $5.00
License to Wed
– $5.00
Patch Adams – Collector's Edition
– $5.98
One Hour Photo (Widescreen Edition)
– $5.99
Jumanji (Collector's Series)
– $6.70
Good Will Hunting (15th Anniversary Edition) [Blu-ray]
– $7.50
Bicentennial Man
– $9.99
What Dreams May Come – Special Edition
– $9.99
The Fisher King [Blu-ray]
– $10.49
Good Morning, Vietnam (Special Edition)
– $10.49
Dead Poets Society
– $10.49
Your order will qualify for FREE shipping with Super Saver Shipping on orders over $35 or with Amazon Prime. You can also sign-up for a FREE 1-month trial of Amazon Prime HERE to test it out and see if it works for you.
Amazon Prime offers multiple benefits including:
FREE Two-Day Shipping for eligible purchases.
Access to Amazon Instant Video
Ability to borrow books from the Kindle Owners' Lending Library.
Product prices and availability are accurate as of the date/time indicated and are subject to change. Any price and availability information displayed on amazon.com at the time of purchase will apply to the purchase of this product.