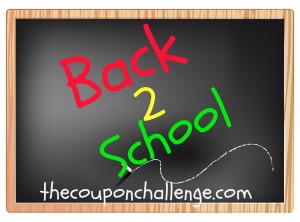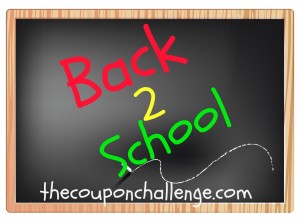 Think outside the pencil box when shopping for back to school supplies.  You don't just have to purchase items for the start of school, you can find ways to save throughout the year by taking advantage of current sale items.
:: Art Studio – Consider buying extra crayons, markers, colored pencils, glue sticks, paints, scissors, notebooks or paper which are always in demand with kids.
:: Home Office – Consider buying extra pens, pencils, highlighters, expo markers, binders, calculator, flash drive, whiteout & tape.
:: Raffles Prizes – Purchase extra items to donate to school for the arts & crafts raffle basket.
:: Birthday or Holiday Gifts – Put together a bag or container filled with art supplies.  Add stickers from the Dollar Tree to make it extra special.
:: Donation to needy students – Pick up items from your child's school list to donate to projects such as Stuff the Bus 2012.
:: Donation to classroom – Teachers may request items for the classroom at the beginning of the year or at anytime throughout the year.  Think about stickers, stamps, markers, crayons, glue sticks, ink pads & magazines as a few possibilities.
:: Mid-year refills – Teachers usually ask for additional supplies such as crayons, glue sticks and markers mid-year if your child is running low.  The teacher doesn't need to know you only paid a penny in July!
:: College Dorm Necessities – Stores such as Bed, Bath & Beyond, Target and Walmart start offering sales on items for college students.  If you need a new laundry basket, now might be the time to purchase.
*While purchasing a few extra rock bottom deals and penny sales is great;  remember to stick to a budget.  It's easy to scoop up a pile for 1 cent folders, but do you really need that many?
What other uses have you found for school supplies?
See Tips for Heading Back-to-School & Top 10 Ways to Save on Back-to-School Supplies