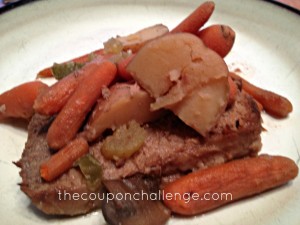 Beef Roast is a meal that my children and husband love. Hubby is a meat and potatoes man, so this is perfect for him 🙂
I always wait until I find a good sale on a beef chuck or round bottom roasts to save money. Look for a 3-4lb roast and then load up on the veggies (depending on family size & crockpot size.)  A 3lb roast with veggies can feed my family for days.  I prefer to use the crock pot since it helps make the meat a bit more tender, and I can throw everything in and walk away for the day.
Ingredients:
3-4lb Beef Roast
1/2 cup water (you could also use about 1/2 can or so beef stock)
3-6 potatoes depending on size, chopped in large pieces
1 medium onion, chopped (size depending on preference)
1 bag baby carrots
3 stalks celery, chopped
1 container fresh mushrooms, halved
5-6 cloves of whole garlic, peeled
Handful of frozen pepper slices (if desired and have on hand)
S/P
Thyme (if desired)
Directions:
Place thawed roast in skillet and generously salt and pepper.  Brown on all sizes.
Wash and chop all vegetables.*
Place potatoes in bottom of crockpot then place roast on top of the potatoes.
Cut slits in the roast and insert whole garlic cloves.
Add remaining vegetables to crockpot around roast and sprinkle a little thyme if desired.
Pour water (or stock) over roast and cover.
Cook on low 6-8 hours or high 4 hours.
*If you cut potatoes or carrots too small,  they will turn to mush.
Don't lift the lid of the crockpot during cooking or you will add about 30 minutes to your cooking time!