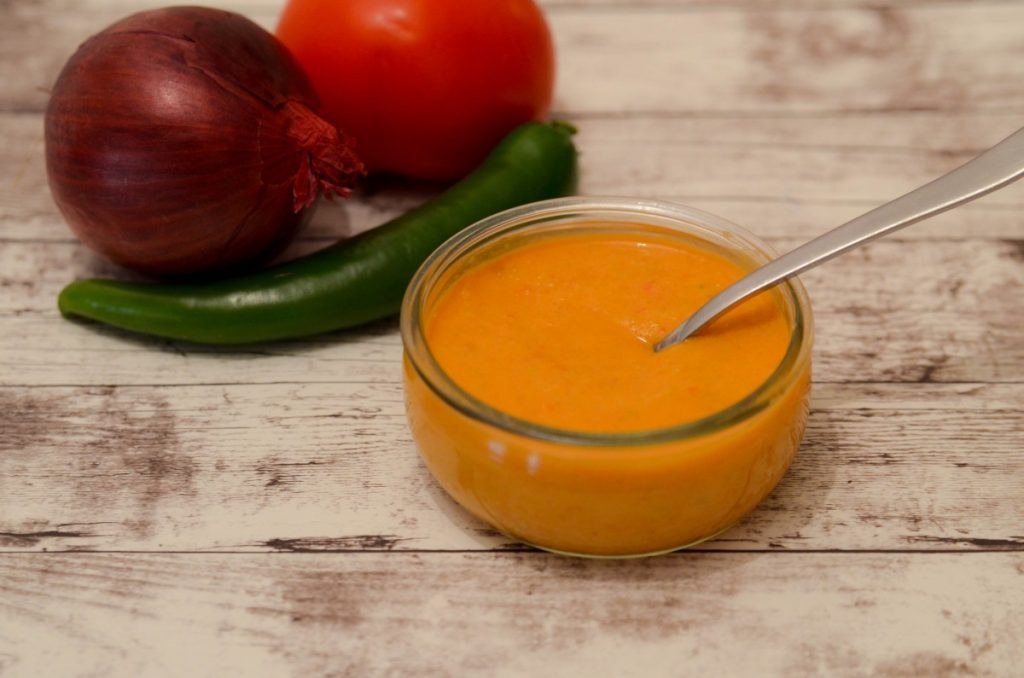 For years I've been experimenting to come up with the best gazpacho recipe.   Now, determining what is actually the best, is a matter of opinion.  However, after making countless different recipes and tweaking my favorites, I've finally come up with it!
A traditional Spanish soup, there are many variations of gazpacho. Chunky to smooth, spicy to mild, it's the perfect warm weather soup that's bursting with flavor.  Eat it in a bowl or drink it out of a mug, it will pair perfectly with your next summer meal.
The trick is to get red, ripe tomatoes.   My mom loves to make gazpacho in the summer when her garden is overflowing with tomatoes.  It's an easy and refreshing soup that ensures she doesn't waste a single garden fresh vegetable.
Note that I prefer to peel my tomatoes and remove the seeds.  This is not required and takes more work, but I think the change in flavor is worth the effort.  For our most recent batch, we followed the recipe with the exception of not peeling or seeding the tomatoes.  The kids tasted it (without knowing we changed anything) and wanted to know why it tasted different.   The skin and seeds really does change the flavor!
I also like to add a Jalapeño to my gazpacho for added flavor. Removing the seeds helps to ensure it's not spicy. BUT if you want to add a little kick to your soup, leave in the seeds.  If you don't like the flavor, you can omit the Jalapeño all together.
Best Gazpacho Recipe: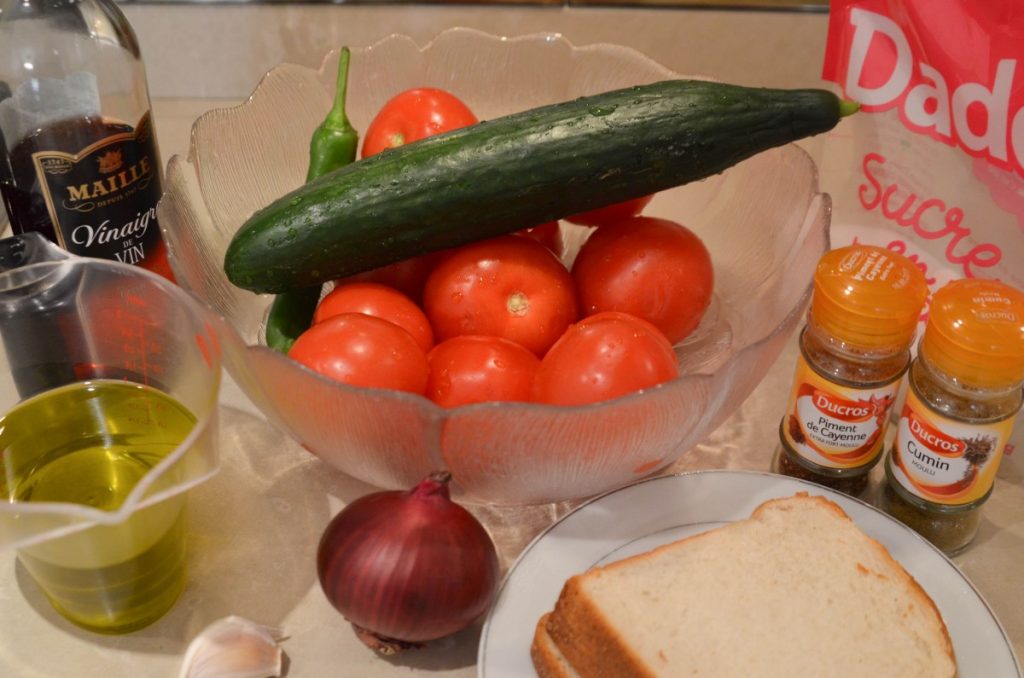 Ingredients:
3 pounds ripe tomatoes, peeled with seeds removed (about 6 cups)
1/2 small red onion, chopped
1 green pepper, chopped
1 cucumber, peeled chopped (I prefer the long English cucumber)
2 garlic cloves, chopped
1 small Jalapeño, seeded and chopped (optional)
2 tablespoons sherry vinegar or red wine vinegar
1 cup extra virgin olive oil
3 slices white bread (about 1/2 inch thick each)
1/2 cup cold water
1/4 teaspoon ground cumin
1/4 teaspoon cayenne pepper
1 teaspoon sea salt, or to taste
1/2 teaspoon sugar*
* If using red wine vinegar, you may want to add up to 2 Tablespoons of sugar as Sherry Vinegar has a slightly sweet flavor.
Optional Garnish:
Diced cucumber, onion and/or green pepper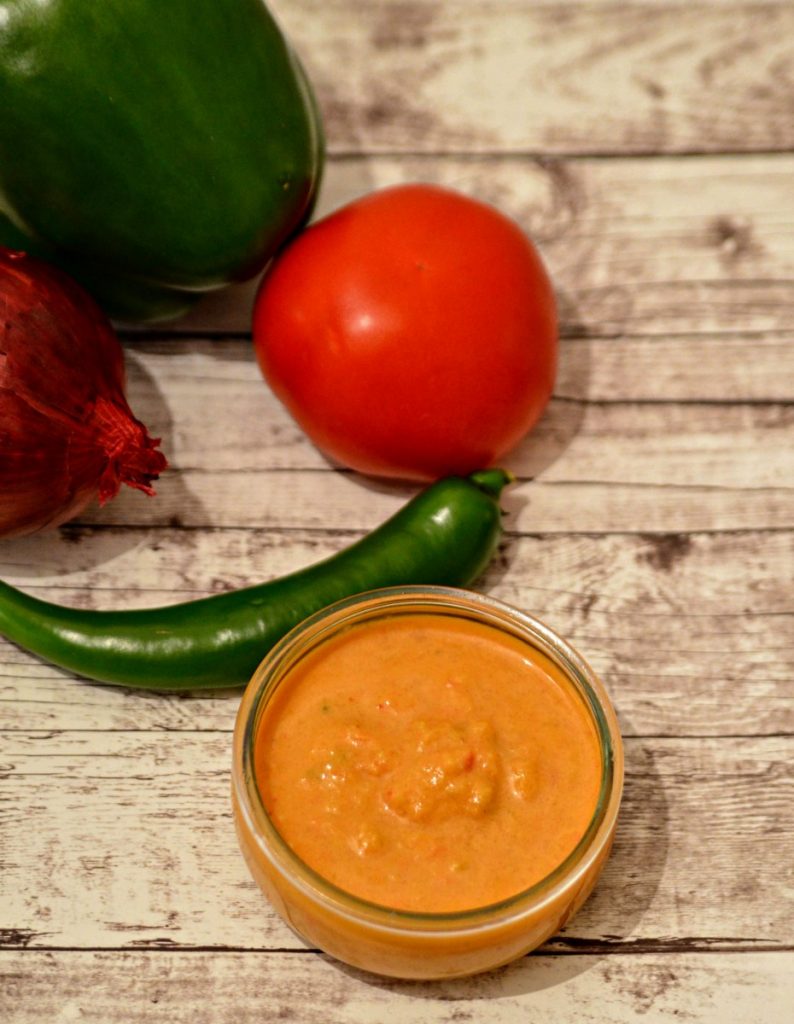 Directions:
1. To peel the tomatoes, boil a pot of water. Add 2 tomatoes at a time and boil about 15 seconds then remove with a slotted spoon. Continue until all tomatoes have been boiled. The skin should peel of easily without having to cut it off with a knife. Then cut the tomatoes in half to remove the seeds.
2. Add the now peeled and seeded tomatoes to a blender with the onion, green pepper, cucumber, Jalapeño, and garlic. Blend slightly.
3. Add the oil and vinegar, blend again.
4.  Tear the bread into chunks, soaking in the water and gently squeezing out excess water before adding to the blender with the cumin, cayenne, sugar and salt.  Blend until reaching desired consistency.  Water can be added slowly if it seems too thick.
5.  Taste and adjust seasoning as desired.
6. Let chill in the refrigerator, preferably overnight.
7. Top with garnish, if desired, before serving.
After many variations, this is what I've come up with as the best gazpacho recipe.   It's light and delicious with a Spanish flavor not to be beat.  If you ever travel through Spain, take the time to try different gazpacho recipes.  It's fascinating to taste the regional differences.
This recipe was adapted from The New Mediterranean Diet Cookbook. This is one of my all-time favorite cookbooks. It's full of healthy and delicious recipes from all over the Mediterranean region.
What changes did you make to the gazpacho recipe?  I'd love to here your suggestions!