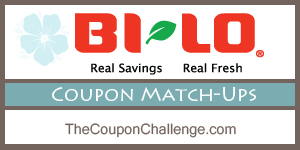 Bi-Lo Grocery Store Coupon Matchups are done! Please visit the new Bi-Lo coupon matchups page for a complete list of deals! Make sure you are viewing the tab for the correct date. Let me know what else you find or if you have corrections!
Double coupons with a face value of up to $0.60
Stores may not double coupons that state "Do Not Double"
Some Bi-Lo's take a limited number of competitor coupons – check with your store for details
Bi-Lo has Buy Theirs ~ Get Ours Free coupons on their site, you must login to see them!
Earn 5X Plenti Bonus Points On Your Total Purchase 4 Days ONLY; Friday through Monday, May 26 – 29, 2017
B1G1
Chinet Bowls, 12 – 72 ct – $6.49
Save from $2.49 – $6.49 on 2
Final Price: $2.25
Buy 2; Use (2) $1.00/1 coupons; Includes B1G1 Savings
Chinet Comfort Cups, 20 ct – $6.49
Save from $2.49 – $6.49 on 2
Final Price: $2.25
Buy 2; Use (2) $1.00/1 coupons; Includes B1G1 Savings
Chinet Dinner Napkins, 40 ct – $6.49
Save from $2.49 – $6.49 on 2
Final Price: $2.25
Buy 2; Use (2) $1.00/1 coupons; Includes B1G1 Savings
Chinet Plates, 12 – 72 ct – $6.49
Save from $2.49 – $6.49 on 2
Final Price: $2.25
Buy 2; Use (2) $1.00/1 coupons; Includes B1G1 Savings
Chinet Platters, 12 – 72 ct – $6.49
Save from $2.49 – $6.49 on 2
Final Price: $2.25
Buy 2; Use (2) $1.00/1 coupons; Includes B1G1 Savings
Kool-Aid Singles, 10 – 12 ct – $3.99
Save from $3.89 – $3.99 on 2
$1.00/2 Kool-Aid Liquid or Powder Drink Mix – 4-30-17 SS (exp. 06/25/17)
Final Price: $1.50
Buy 2; Includes B1G1 Savings
Kool-Aid, 8 qt canister – $3.99
Save from $3.89 – $3.99 on 2
$1.00/2 Kool-Aid Liquid or Powder Drink Mix – 4-30-17 SS (exp. 06/25/17)
Final Price: $1.50
Buy 2; Includes B1G1 Savings
Mission Tortilla Chips, 13 oz – $3.98
Save from $2.79 – $3.98 on 2
Final Price: $1.49
Buy 2; Includes Cartwheel and B1G1 Savings
Mission Tortillas, 8 – 20 ct – $3.98
Save from $2.79 – $3.98 on 2Includes: Burrito size
Final Price: $1.49
Buy 2; Includes Cartwheel and B1G1 Savings
Pace Dip Salsa Queso, 15 oz – $3.98
Save from $2.79 – $3.98 on 2
$0.55/1 Pace Salsa, Picante or Dip – 4-30-17 SS; Includes 15 oz or Larger Only (exp. 06/25/17)
Final Price: $1.44
Buy 2; Use (2) $0.55/1 coupons; Includes B1G1 Savings
Pace Picante Sauce, 24 oz – $3.98
Save from $2.79 – $3.98 on 2
$0.55/1 Pace Salsa, Picante or Dip – 4-30-17 SS; Includes 15 oz or Larger Only (exp. 06/25/17)
Final Price: $1.30
Buy 2; Use (2) $0.55/1 coupons; Includes Cartwheel and B1G1 Savings
Pace Salsa, 24 oz – $3.98
Save from $2.79 – $3.98 on 2
$0.55/1 Pace Salsa, Picante or Dip – 4-30-17 SS; Includes 15 oz or Larger Only (exp. 06/25/17)
Final Price: $1.30
Buy 2; Use (2) $0.55/1 coupons; Includes Cartwheel and B1G1 Savings
Ronzoni Pasta, 12 – 16 oz – $1.50
Final Price: $0.25
Buy 2; Includes B1G1 Savings
Sabra Hummus, 8 – 10 oz – $3.99
Save from $3.50 – $3.99 on 2
$0.50/1 Sabra Hummus – 5-14-17 RP; DND (exp. 06/05/17)
Final Price: $1.50
Buy 2; Includes B1G1 Savings
Smithfield Bacon, 12 – 16 oz – $7.99
$1.00/2 Smithfield Bacon or Anytimes Favorite Products – 5-14-17 RP (exp. 06/30/17)
Final Price: $3.50
Buy 2; Includes B1G1 Savings
Sweet Baby Ray's Barbecue Sauce, 18 oz – $2.39
$1.00/2 Sweet Baby Ray's Barbecue Sauce – 5-21-17 SS (exp. 06/30/17)
Final Price: $0.70
Buy 2; Includes B1G1 Savings
Tang Drink Mix, 8 qt – $3.99
Save from $3.89 – $3.99 on 2
$1.00/2 Country Time or Tang Drink Mix – 4-30-17 SS (exp. 06/25/17)
Final Price: $1.50
Buy 2; Includes B1G1 Savings
Tang Singles, 10 – 12 ct – $3.99
Save from $3.89 – $3.99 on 2
$1.00/2 Country Time or Tang Drink Mix – 4-30-17 SS (exp. 06/25/17)
Final Price: $1.50
Buy 2; Includes B1G1 Savings
Baby Food & Care
Huggies Diapers, 11 – 35 ct – $9.00
Includes: Jumbo, Pull Ups or GoodNites
Out-of-Pocket Price: $7.00
Final Price: $5.00
Buy 1; Includes Ibotta Rebate Savings
Bread & Bakery
King's Hawaiian Hamburger Buns, 10.8 – 12 oz – $3.00
King's Hawaiian Hot Dog Buns, 10.8 – 12 oz – $3.00
King's Hawaiian Original Dinner Rolls, 10.8 – 12 oz – $3.00
Breakfast & Cereal
General Mills Honey Nut Cheerios Cereal, 17 oz – $4.99 – B1G1
Save from $2.89 – $4.99 on 2
Final Price: $1.50
Buy 2; Includes B1G1 Savings
Condiments, Spice & Baking
Frank's RedHot Sauce, 12 oz – $3.39 – B1G1
Save from $2.59 – $3.39 on 2
Final Price: $0.70
Buy 1; Includes B1G1 Savings
Pompeian Extra Virgin Olive Oil, 16 oz – $7.99 – B1G1
Final Price: $3.45
Buy 2; Use (20 $0.55/1 coupons; Includes B1G1 Savings
Cookies, Snacks & Candy
Nabisco Honey Maid Graham Crackers, 7 – 14 oz – $3.00
$0.75/2 Nabisco Cookie or Cracker Products – 5-21-17 SS; Includes 3.5 oz or Larger Only (exp. 07/01/17)
Out-of-Pocket Price: $2.13
Final Price: $1.83
Buy 2; Includes Checkout 51 Rebate Savings
Dairy
Essentials Sweetened Tea, 1 gal – $2.00
SE Grocers Cheese, 16 oz – 4.90
Includes: Shredded or Chunk
Frozen Foods
SE Grocers Potatoes, 16 – 32 oz – $2.99
Southern Home Potatoes, 16 – 32 oz – $2.00
Home Supplies
Dixie 10 " Plates, 26 ct – $3.49 – B1G1
Save from $3.19 – $3.49 on 2
$1.00/2 Dixie Plates – 5-14-17 RP (exp. 06/14/17)
Out-of-Pocket Price: $1.75
Final Price: $1.25
Buy 2; Includes B1G1 Savings
Hefty Cups, 30 – 50 ct – $3.99 – B1G1
Save from $3.19 – $3.99 on 2
Final Price: $1.50
Buy 2; Includes B1G1 Savings
Hefty Foam Bowls, 28 – 50 ct – $3.99 – B1G1
Save from $3.19 – $3.99 on 2
Final Price: $1.50
Buy 2; Includes B1G1 Savings
Personal Care
Coast Bar Soap, 3 ct – $3.59 – B1G1
Save from $2.89 – $3.59 on 2
Out-of-Pocket Price: $1.30
Final Price: $0.80
Buy 2; Use (2) $0.50/1 coupons; Includes MobiSave Rebate AND B1G1 Savings
Puffs Facial Tissue, 56 – 64 ct – $1.00
Includes: Cube
Out-of-Pocket Price: $0.75
Final Price: $0.25
Buy 1; Includes Checkout 51 Rebate Savings
Zest Bar Soap, 3 ct – $3.59 – B1G1
Save from $2.89 – $3.59 on 2
Final Price: $1.30
Buy 2; Use (2) $0.50/1 coupons; Includes B1G1 Savings
Zest Body Wash, 16.5 – 18 oz – $3.59 – B1G1
Save from $2.89 – $3.59 on 2
$0.50/1 Zest or Coast Body Wash – 5-14-17 SS; DND (exp. 06/26/17)
Final Price: $1.30
Buy 2; Use (2) $0.50/1 coupons; Includes B1G1 Savings
Pet Care
Tidy Cats Conventional Cat Litter, 20 lb – $3.99
$2.00/1 Purina Tidy Cats Lightweight Cat Litter – 4-30-17 SS (exp. 07/30/17)
Final Price: $1.99