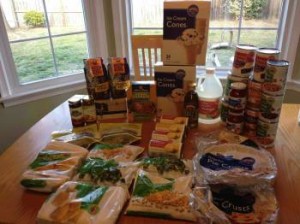 Locally, Bloom stores are changing back to Food Lion.  The only good news is that Bloom has started marking down some of their Hannaford store brand products and other brands that will not be carried at Food Lion.  This is my haul from yesterday.
I actually ended up spending just shy of $50. That put me over my budget by about $25!  This is the first time I've been over budget in well, I can't even remember it's been that long.
A lot of the organic items I wanted were already picked over, but I did mange to get some frozen veggies, frozen organic blueberries, 2 organic coffee, 1 k-cup, 2 organic jellies, frozen pie crusts, canned pumpkin, canned blueberries and more.
Have you been shopping at the Bloom clearance?  Tell us how you made out.