Be on the look out!
During my last visit to Harris Teeter I grabbed the following rebate offer off a stack of Budweiser beer cartons. They always seem to have good offers, and I was glad to find this one.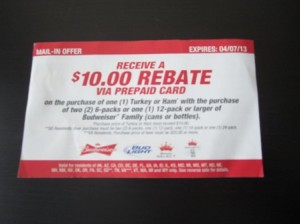 It was also a good reminder to take a quick trip down the beer/wine aisle to check for deals – even if you're NOT shopping for alcohol. If you can't find any, ask at the Customer Service Desk. Many times they keep the rebates behind the counter to deter people from taking all of them at once.
I recently put $10 in the bank from rebates I submitted for a few months ago – it was like ADDING to my grocery budget!
Receive a $10.00 Rebate via Prepaid Card on the Purchase of one (1) Turkey or Ham* with the Purchase of two (2) 6-packs or one (1) 12-pack or larger of Budweiser Family (cans or bottles).
*Purchase price of Turkey or Ham must exceed $10.00
**SD Residents: Beer purchase must be two (2) 6-packs, one (1) 12-pack, one (1) 18-pack or one (1) 24-pack.
***VA Residents: Purchase price of beer must exceed $20.00 or more 
Valid for the residents of AK, AZ, CA, CO, DC, DE, FL, GA, IA, ID, IL, KS, MD, MI, MS, MT, ND, NE, NH, NM, NV, OK, OR, PA, SC, SD**, TN, VA***, VT, WA, WI AND WY ONLY.
Maximum of one (1) $10.00 rebate per individual household family or street address.
Purchase must occur between 3/4/13 thru 4/7/13 postmarked by 4/22/13.